High pressure ball valves for subsea operation. Pressures to 20,000 psi (1379 bar) and water depths to 12,500 feet (3810 meters) .Parker Autoclave's high pressure subsea ball valves are capable of operating to 20,000 psi (1379 bar) and depths of 12,500 feet (3810 meters), in sizes 3/16", 1/4", 3/8", and 1/2". Standard ball valves are furnished in 316 SS with specials materials available. Our unique design innovations include an integral one-piece trunnion mounted ball and stem that eliminates the shear failure common in two piece designs, re-torqueable seat glands that result in longer seat life, and lower friction stem seal that reduces actuation torque and enhances cycle life.

FEATURES
One piece, trunnion mounted stem design.
Full port flow path minimizes pressure drop.
PEEK seats for excellent chemical, heat and wear resistance.
Available to NACE MR-01-75
Manufactured from cold worked stainless steel.
Optional O-rings materials available.
Adaptable for Remote Operated Vehicle (ROV) operation.
Optional wetted materials.
Wide selection of tube and pipe end connections.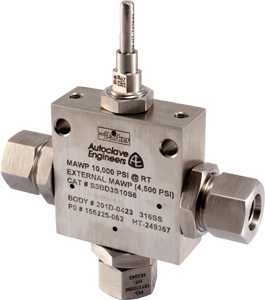 一件式,耳轴安装阀杆设计。


全端口流路最大限度地减少压降。


PEEK 阀座具有出色的耐化学性、耐热性和耐磨性。


适用于 NACE MR-01-75


由冷加工不锈钢制成。


提供可选的 O 形圈材料。


适用于遥控车辆 (ROV) 操作。


可选接液材料。


管道和管道端部连接的多种选择。

| | | | | | | | |
| --- | --- | --- | --- | --- | --- | --- | --- |
| Parts | Bore Diameter (mm) | Additional Options | Options | Connection Size | Connection Type | Seat Material | Body Material |
| | 10 | N/A | Handle | 3/8" | Butt Weld | PEEK | Duplex Stainless Steel |
| | 10 | NACE certification | Handle | 3/8" | Butt Weld | PEEK | Duplex Stainless Steel |
| | 10 | N/A | ROV Low Torque Paddle | 3/8" | Butt Weld | PEEK | Duplex Stainless Steel |
| | 10 | NACE certification | ROV Low Torque Paddle | 3/8" | Butt Weld | PEEK | Duplex Stainless Steel |
| | 10 | N/A | Handle | 3/8" | NPT | PEEK | Duplex Stainless Steel |
| | 10 | NACE certification | Handle | 3/8" | NPT | PEEK | Duplex Stainless Steel |
| | 10 | N/A | ROV Low Torque Paddle | 3/8" | NPT | PEEK | Duplex Stainless Steel |
| | 10 | NACE certification | ROV Low Torque Paddle | 3/8" | NPT | PEEK | Duplex Stainless Steel |
| | 10 | N/A | Handle | 1/2" | Butt Weld | PEEK | Duplex Stainless Steel |
| | 10 | NACE certification | Handle | 1/2" | Butt Weld | PEEK | Duplex Stainless Steel |
| | 10 | N/A | ROV Low Torque Paddle | 1/2" | Butt Weld | PEEK | Duplex Stainless Steel |
| | 10 | NACE certification | ROV Low Torque Paddle | 1/2" | Butt Weld | PEEK | Duplex Stainless Steel |
| | 10 | N/A | Handle | 1/2" | NPT | PEEK | Duplex Stainless Steel |
| | 10 | NACE certification | Handle | 1/2" | NPT | PEEK | Duplex Stainless Steel |
| | 10 | N/A | ROV Low Torque Paddle | 1/2" | NPT | PEEK | Duplex Stainless Steel |
| | 10 | NACE certification | ROV Low Torque Paddle | 1/2" | NPT | PEEK | Duplex Stainless Steel |
| | 10 | N/A | Handle | 3/4" | Cone and Thread | PEEK | Duplex Stainless Steel |
| | 10 | NACE certification | Handle | 3/4" | Cone and Thread | PEEK | Duplex Stainless Steel |
| | 10 | N/A | ROV Low Torque Paddle | 3/4" | Cone and Thread | PEEK | Duplex Stainless Steel |
| | 10 | NACE certification | ROV Low Torque Paddle | 3/4" | Cone and Thread | PEEK | Duplex Stainless Steel |
| | 10 | N/A | Handle | 3/8" | Cone and Thread | PEEK | Duplex Stainless Steel |
| | 10 | NACE certification | Handle | 3/8" | Cone and Thread | PEEK | Duplex Stainless Steel |
| | 10 | N/A | ROV Low Torque Paddle | 3/8" | Cone and Thread | PEEK | Duplex Stainless Steel |
| | 10 | NACE certification | ROV Low Torque Paddle | 3/8" | Cone and Thread | PEEK | Duplex Stainless Steel |
| | 10 | N/A | Handle | 9/16" | Cone and Thread | PEEK | Duplex Stainless Steel |
| | | | | | | | |
| --- | --- | --- | --- | --- | --- | --- | --- |
| Parts | Bore Diameter (mm) | Additional Options | Options | Connection Size | Connection Type | Seat Material | Body Material |
| | 10 | NACE certification | Handle | 9/16" | Cone and Thread | PEEK | Duplex Stainless Steel |
| | 10 | N/A | ROV Low Torque Paddle | 9/16" | Cone and Thread | PEEK | Duplex Stainless Steel |
| | 10 | NACE certification | ROV Low Torque Paddle | 9/16" | Cone and Thread | PEEK | Duplex Stainless Steel |
| | 10 | N/A | Handle | 3/8" | Butt Weld | PEEK | Super Duplex |
| | 10 | NACE certification | Handle | 3/8" | Butt Weld | PEEK | Super Duplex |
| | 10 | N/A | ROV Low Torque Paddle | 3/8" | Butt Weld | PEEK | Super Duplex |
| | 10 | NACE certification | ROV Low Torque Paddle | 3/8" | Butt Weld | PEEK | Super Duplex |
| | 10 | N/A | Handle | 3/8" | NPT | PEEK | Super Duplex |
| | 10 | NACE certification | Handle | 3/8" | NPT | PEEK | Super Duplex |
| | 10 | N/A | ROV Low Torque Paddle | 3/8" | NPT | PEEK | Super Duplex |
| | 10 | NACE certification | ROV Low Torque Paddle | 3/8" | NPT | PEEK | Super Duplex |
| | 10 | N/A | Handle | 1/2" | Butt Weld | PEEK | Super Duplex |
| | 10 | NACE certification | Handle | 1/2" | Butt Weld | PEEK | Super Duplex |
| | 10 | N/A | ROV Low Torque Paddle | 1/2" | Butt Weld | PEEK | Super Duplex |
| | 10 | NACE certification | ROV Low Torque Paddle | 1/2" | Butt Weld | PEEK | Super Duplex |
| | 10 | N/A | Handle | 1/2" | NPT | PEEK | Super Duplex |
| | 10 | NACE certification | Handle | 1/2" | NPT | PEEK | Super Duplex |
| | 10 | N/A | ROV Low Torque Paddle | 1/2" | NPT | PEEK | Super Duplex |
| | 10 | NACE certification | ROV Low Torque Paddle | 1/2" | NPT | PEEK | Super Duplex |
| | 10 | N/A | Handle | 3/4" | Cone and Thread | PEEK | Super Duplex |
| | 10 | NACE certification | Handle | 3/4" | Cone and Thread | PEEK | Super Duplex |
| | 10 | N/A | ROV Low Torque Paddle | 3/4" | Cone and Thread | PEEK | Super Duplex |
| | 10 | NACE certification | ROV Low Torque Paddle | 3/4" | Cone and Thread | PEEK | Super Duplex |
| | 10 | N/A | Handle | 3/8" | Cone and Thread | PEEK | Super Duplex |
| | 10 | NACE certification | Handle | 3/8" | Cone and Thread | PEEK | |
| | | | | | | | |
| --- | --- | --- | --- | --- | --- | --- | --- |
| Parts | Bore Diameter (mm) | Additional Options | Options | Connection Size | Connection Type | Seat Material | Body Material |
| | 10 | N/A | ROV Low Torque Paddle | 3/8" | Cone and Thread | PEEK | Super Duplex |
| | 10 | NACE certification | ROV Low Torque Paddle | 3/8" | Cone and Thread | PEEK | Super Duplex |
| | 10 | N/A | Handle | 9/16" | Cone and Thread | PEEK | Super Duplex |
| | 10 | NACE certification | Handle | 9/16" | Cone and Thread | PEEK | Super Duplex |
| | 10 | N/A | ROV Low Torque Paddle | 9/16" | Cone and Thread | PEEK | Super Duplex |
| | 10 | NACE certification | ROV Low Torque Paddle | 9/16" | Cone and Thread | PEEK | Super Duplex |
| | 10 | N/A | Handle | 3/8" | Butt Weld | PEEK | Inconel 625 |
| | 10 | NACE certification | Handle | 3/8" | Butt Weld | PEEK | Inconel 625 |
| | 10 | N/A | ROV Low Torque Paddle | 3/8" | Butt Weld | PEEK | Inconel 625 |
| | 10 | NACE certification | ROV Low Torque Paddle | 3/8" | Butt Weld | PEEK | Inconel 625 |
| | 10 | N/A | Handle | 3/8" | NPT | PEEK | Inconel 625 |
| | 10 | NACE certification | Handle | 3/8" | NPT | PEEK | Inconel 625 |
| | 10 | N/A | ROV Low Torque Paddle | 3/8" | NPT | PEEK | Inconel 625 |
| | 10 | NACE certification | ROV Low Torque Paddle | 3/8" | NPT | PEEK | Inconel 625 |
| | 10 | N/A | Handle | 1/2" | Butt Weld | PEEK | Inconel 625 |
| | 10 | NACE certification | Handle | 1/2" | Butt Weld | PEEK | Inconel 625 |
| | 10 | N/A | ROV Low Torque Paddle | 1/2" | Butt Weld | PEEK | Inconel 625 |
| | 10 | NACE certification | ROV Low Torque Paddle | 1/2" | Butt Weld | PEEK | Inconel 625 |
| | 10 | N/A | Handle | 1/2" | NPT | PEEK | Inconel 625 |
| | 10 | NACE certification | Handle | 1/2" | NPT | PEEK | Inconel 625 |
| | 10 | N/A | ROV Low Torque Paddle | 1/2" | NPT | PEEK | Inconel 625 |
| | 10 | NACE certification | ROV Low Torque Paddle | 1/2" | NPT | PEEK | Inconel 625 |
| | 10 | N/A | Handle | 3/4" | Cone and Thread | PEEK | Inconel 625 |
| | 10 | NACE certification | Handle | 3/4" | Cone and Thread | PEEK | Inconel 625 |
| | 10 | N/A | ROV Low Torque Paddle | 3/4" | Cone and Thread | PEEK | Inconel 625 |
| | | | | | | | |
| --- | --- | --- | --- | --- | --- | --- | --- |
| Parts | Bore Diameter (mm) | Additional Options | Options | Connection Size | Connection Type | Seat Material | Body Material |
| | 10 | N/A | Handle | 3/4" | Cone and Thread | PEEK | 316 Stainless Steel |
| | 10 | NACE certification | Handle | 3/4" | Cone and Thread | PEEK | 316 Stainless Steel |
| | 10 | N/A | ROV Low Torque Paddle | 3/4" | Cone and Thread | PEEK | 316 Stainless Steel |
| | 10 | NACE certification | ROV Low Torque Paddle | 3/4" | Cone and Thread | PEEK | 316 Stainless Steel |
| | 10 | N/A | Handle | 3/8" | Cone and Thread | PEEK | 316 Stainless Steel |
| | 10 | NACE certification | Handle | 3/8" | Cone and Thread | PEEK | 316 Stainless Steel |
| | 10 | N/A | ROV Low Torque Paddle | 3/8" | Cone and Thread | PEEK | 316 Stainless Steel |
| | 10 | NACE certification | ROV Low Torque Paddle | 3/8" | Cone and Thread | PEEK | 316 Stainless Steel |
| | 10 | N/A | Handle | 9/16" | Cone and Thread | PEEK | 316 Stainless Steel |
| | 10 | NACE certification | Handle | 9/16" | Cone and Thread | PEEK | 316 Stainless Steel |
| | 10 | N/A | ROV Low Torque Paddle | 9/16" | Cone and Thread | PEEK | 316 Stainless Steel |
| | 10 | NACE certification | ROV Low Torque Paddle | 9/16" | Cone and Thread | PEEK | 316 Stainless Steel |