Snap-tite真空泵和高压反应釜及蒸汽装置配套高真空应用E和EA系列快速接头
Snap-tite EA & E Series Vacuum Couplings: General Purpose Poppet Coupling General Purpose, vacuum,
and Steam Poppet Coupling / Quick Coupler EA 、 E 系列
美国Snap-tite EA & E Series系列快速接头用于真空泵、高压釜、飞机制造、注塑模具,E系列用于液压气动设备等。特点是真空度29.72英寸汞柱的高度真空以及多功能快换接头在真空中应用的能力。Parker EA 系列阳接头承压(液压,水,气体)可从真空至 3,000 psi,与EA系列阴接头配合使用。派克EA 系列快换接头的阀芯结构有单截止型,双截止型,以及不带阀的直通型可以选择,是特别为真空以及中压应用开发的。真空可达 29.72" Hg。该系列快换阳接头以及阴接头可全尺寸供货,各种材料包括黄铜,碳钢,以及 316 不锈钢。派克多用途快换阴接头和阳接头是真空以及中压应用下,当流体或者气体回路需要快速简便地连接或者断开时的理想选择。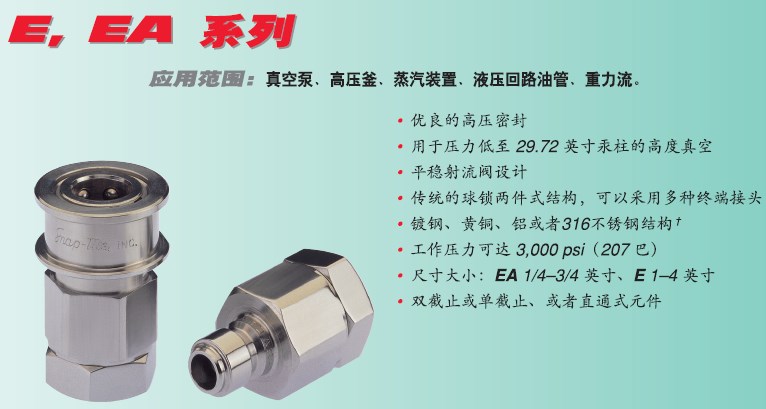 Snap-tite EA Series Vacuum Couplings PDF Catalog

产品特性:



优良的高压密封


传统的球锁两件式结构,可以采用多种终端接头;


真空度:29.72英寸汞柱的高度真空;


平稳射流阀设计;


材质:碳钢、黄铜、铝、316不锈钢;


尺寸规格:1/4″—3/4″(EA),1″—4″(E)


工作压力:3000psi(207bar);


选型资料(插入链接)


尺寸大小:EA Sizes - 1/4" thru 3/4"


E Sizes - 1" thru 4"


Construction - Available in aluminum, brass, plated steel and 316 stainless steel


Seal Versatility - Wide range of standard & special seal materials available


High Temperature Capability - Unique EA Series seal configuration allows for high temperature use


Vacuum Capability - Dependable service down to 29.72" Hg


Optional Sleeve Lock - Aids in prevention of accidental disconnection


Pressure Ratings - Working pressures to 3,000 psi (207 bar)


双截止或单截止、或者直通式元件Valve Configurations - Available with double or single shut-off valving or straight through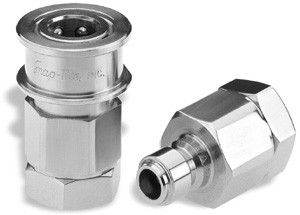 Snap-tite EA & E Series Vacuum coupling PDF _ 下载

技术特点:

- 尺寸:1/4" - 3/4"
- 材料可选:黄铜,碳钢,以及316L 不锈钢
- 接口螺纹:内螺纹 NPTF,外螺纹 NPT
- 密封可选:丁腈橡胶,氟橡胶,三元乙丙橡胶
- 其他阳接头可选项包括:铝材质,尺寸高达4英寸,和其他接口连接选项。
市场:

- 工业
- 建筑
- 模具行业
- 测试
特性/优点:

- 多功能快换接头在真空中应用的能力
- 带阀及不带阀的结构形式可以用于各种形式的连接,如直通型,双截止,以及单截止连接等。
- 外螺纹及内螺纹可选


性能特点
最大工作压力 (PSI) 1500 至 3000
真空额定值 (HG IN) 29.7
密封材料 丁腈橡胶
媒介 液压
半联轴器 芯子
最低工作温度 (F) -40
最高工作温度 (F) 250
阀门样式 不带阀或者带锥阀形式
电镀 镀锌,白色三价铬钝化
应用 真空以及液压中压系统
应用:

- 实验室测试设备
- 高压灭菌应用
- 飞机制造
- 塑料成型
- 卧式镗脱水

Snap-tite EA & E Series应用:
EA系列用于真空泵、高压釜、飞机制造、注塑模具,E系列用于液压气动设备等。


Parker Snap-tite EA & E Series Coupling
Snap-tite EA & E Series - The EA Series coupling is designed for vacuum & medium pressure service, providing a fast & dependable method of fluid line changeover in autoclave applications ranging from aircraft fabrication to plastic molding. The E Series has been proven by years of use on hydraulic & pneumatic applications as well as many other liquids & gases. They are designed & manufactured for years of reliable service.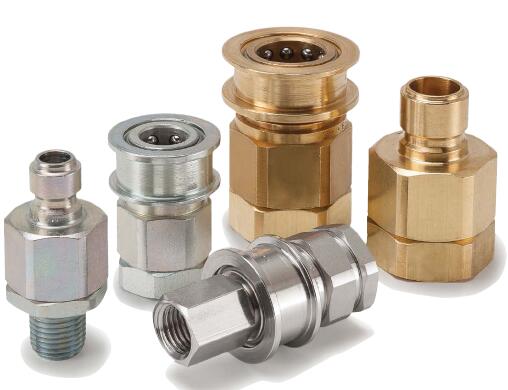 Snap-tite EA & E Series : General Purpose Poppet Coupling
General Purpose, vacuum, and Steam Poppet Coupling/Quick Coupler

BENEFITS
Snap-tite's EA and E's "Jet Stream" valve design helps maintain a clean linear flow which equates to low pressure drop. Positive positioning of the valve aids in maintaining a steady even flow under normal working conditions. The couplings two piece body construction allows for many end fitting options from standard industrial styles to stringent military specific designs.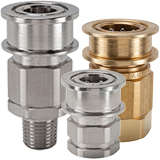 SNAP- TITE

Snap-tite BVEAN4-4M BVEAN4-4M
Snap-tite BVEAN4-4ME 1/4 EA BRASS NIPPLE
W/ EPR SEALS"
Snap-tite BVEAN4-4MV BVEAN4-4MV
Snap-tite BPEAC6-6F BPEAC6-6F
Snap-tite BPEAC6-6FV BPEAC6-6FV
Snap-tite BPEAC8-8F BPEAC8-8F
Snap-tite BPEAN6-6F BPEAN6-6F
Snap-tite BVEAC6-6EM 3/8 EA VLV CPLR ASSY
Snap-tite BVEAC6-6F BVEAC6-6F
Snap-tite BVEAC6-6FAS 3/8 EA VLV CPLR
ASSY
Snap-tite BVEAC6-6FE BVEAC6-6FE
Snap-tite BVEAC6-6FV BVEAC6-6FV
Snap-tite BVEAC6-6M BVEAC6-6M
Snap-tite BVEAN6-6EB 3/8 EA VLV NPL ASSY
Snap-tite BVEAN6-6EM 3/8 EA VLV NPL ASSY
Snap-tite BVEAN6-6F BVEAN6-6F
Snap-tite BVEAN6-6FAS 3/8 EA VLV NPL ASSY
Snap-tite BVEAN6-6FE BVEAN6-6FE
Snap-tite BVEAN6-6FV BVEAN6-6FV
Snap-tite BVEAN6-6M BVEAN6-6M
Snap-tite BVEAN6-6ME BVEAN6-6ME
Snap-tite BPEAC8-8FSL 1/2 EA PL CPL ASSY
S/L
Snap-tite BPEAC8-8FVSL BPEAC8-8FVSL
Snap-tite BPEAN8-8F BPEAN8-8F
Snap-tite BPEAN8-8RP BPEAN8-8RP
Snap-tite BVEAC8-8F BVEAC8-8F
Snap-tite BVEAC8-8FAS 1/2 EA VLV CPLR
ASSY
Snap-tite BVEAC8-8FE BVEAC8-8FE
Snap-tite BVEAC8-8FESL BVEAC8-8FESL
Snap-tite BVEAC8-8FV 1/2 EA VLV CPL ASSY
V
Snap-tite BVEAC8-8M BVEAC8-8M
Snap-tite BVEAC8-8ME 1/2 VLV EA CPL ASSY
8M
Snap-tite BVEAN8-8F BVEAN8-8F
Snap-tite BVEAN8-8FAS 1/2 EA VLV NPL ASSY
Snap-tite BVEAN8-8FE BVEAN8-8FE
Snap-tite BVEAN8-8FV 1/2 NPL VITON
Snap-tite BVEAN8-8M BVEAN8-8M
Snap-tite BVEAN8-8ME 1/2 NPL
Snap-tite BPEAC12-12F BPEAC12-12F
Snap-tite BPEAC12-12FE 3/4 EA PLN CPLR
W/EPR
Snap-tite BPEAC12-12FSL BPEAC12-12FSL
Snap-tite BPEAC12-12FV 3/4 PLAIN EA CPLR
VITON
Snap-tite BPEAN12-12F BPEAN12-12F
Snap-tite BVEAC12-12F 3/4 EA CPLR
Snap-tite BVEAC12-12FE BVEAC12-12FE
Snap-tite BVEAC12-12FESL BVEAC12-12FESL
Snap-tite BVEAC12-12FSL BVEAC12-12FSL
Snap-tite BVEAC12-12FV BVEAC12-12FV
Snap-tite BVEAC12-12M BVEAC12-12M
Snap-tite BVEAC12-12ME 3/4 EA VLV CPLR
ASSY
Snap-tite BVEAN12-12F BVEAN12-12F
Snap-tite BVEAN12-12FE BVEAN12-12FE
Snap-tite BVEAN12-12FV BVEAN12-12FV
Snap-tite BVEAN12-12M BVEAN12-12M
Snap-tite BVEAN12-12ME BVEAN12-12ME
Snap-tite BPEC16-16F BPEC16-16F
Snap-tite BPEN16-16F BPEN16-16F
Snap-tite BVEC16-16F BVEC16-16F
Snap-tite BVEC16-16FE BVEC16-16FE
Snap-tite BVEC16-16FN INACTIVE, SEALS NOT
AVAILABLE 1 E COUPLE
Snap-tite BVEC16-16FV BVEC16-16FV
Snap-tite BVEC16-16M BVEC16-16M
Snap-tite BVEN16-16F BVEN16-16F
Snap-tite BVEN16-16FE BVEN16-16FE
Snap-tite BVEN16-16FN INACTIVE, SEALS
UNAVAILABLE 1 E NIPPLE
Snap-tite BVEN16-16FV BVEN16-16FV
Snap-tite BVEN16-16M BVEN16-16M
Snap-tite BVEN16-16ME BVEN16-16ME
Snap-tite BPEC20-20F BPEC20-20F
Snap-tite BPEC20-20FV 1 1/4 BRASS CPLR
VITON
Snap-tite BPEN20-20F BPEN20-20F
Snap-tite BVEC20-20F BVEC20-20F
Snap-tite BVEC20-20FE BVEC20-20FE
Snap-tite BVEC20-20FV BRASS CPRL W/VITON
SEALS
Snap-tite BVEC20-20M CK INV BEFORE
QUOTING
Snap-tite BVEC20-20MV 1 1/4 CPLR
Snap-tite BVEN20-20F BVEN20-20F
Snap-tite BVEN20-20FE 1 1/4 E NPL
Snap-tite BVEN20-20FV BRASS NPL W/VITON
SEALS
Snap-tite BVEN20-20M BVEN20-20M
Snap-tite BPEC24-24F BPEC24-24F
Snap-tite BPEC24-24FSL BPEC24-24FSL
Snap-tite BPEN24-24F BPEN24-24F
Snap-tite BVEC24-24F BVEC24-24F
Snap-tite BVEC24-24FE 1 1/2 CPLR
Snap-tite BVEC24-24FV 1 1/2 E COUPLER
Snap-tite BVEC24-24M CK INV BEFORE
QUOTING
Snap-tite BVEC24-24MSL BRASS COUPLER 1
1/2 E
Snap-tite BVEN24-24F BVEN24-24F
Snap-tite BVEN24-24FE BVEN24-24FE
Snap-tite BVEN24-24FV BVEN24-24FV
Snap-tite BPEC32-32F BPEC32-32F
Snap-tite BPEC32-32FV 2 E COUPLER BRASS
VITON SEALS
Snap-tite BPEN32-32F BPEN32-32F
Snap-tite BVEC32-32F BVEC32-32F
Snap-tite BVEC32-32FV 2 E COUPLER
Snap-tite BVEN32-32F BVEN32-32F
Snap-tite BVEN32-32FV 2 E NIPPLE
Snap-tite SPEAC4-4F SPEAC4-4F
Snap-tite SPEAC4-4FSL 1/4 EA PLN CPLR
ASSY S/L
Snap-tite SPEAN4-4F SPEAN4-4F
Snap-tite SPEAN4-4M 1/4 EA PLAIN NPL
Snap-tite SVEAC4-2F 1/4 EA CPLR
Snap-tite SVEAC4-2FM 1/4 EA CPLR
Snap-tite SVEAC4-2FV 1/4 EA CPLR
Snap-tite SVEAC4-4-56 1/4 EA CPLR
Snap-tite SVEAC4-4-57E 1/4 CPLR
Snap-tite SVEAC4-4-57V 1/4 EA COUPLER
ASSEMBLY
Snap-tite SVEAC4-4F 1/4 EA CPLR ASSY
Snap-tite SVEAC4-4FE 1/4 EA COUPLER
Snap-tite SVEAC4-4FJF 1/4 EA CPLR
Snap-tite SVEAC4-4FV 1/4 EA CPLR
Snap-tite SVEAC4-4FVSL 1/4 EA VLV CPLR
ASSY
Snap-tite SVEAC4-4M 1/4 EA COUPLER
Snap-tite SVEAC4-4ME 1/4 EA CPLR
Snap-tite SVEAC4-4MV 1/4 EA VLV CPLR ASSY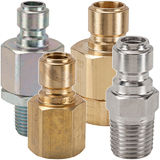 Snap-tite SPEAC6-6F SPEAC6-6F
Snap-tite SPEAN6-6F SPEAN6-6F
Snap-tite SVEAC6-6-49 3/8 EA CPLR
Snap-tite SVEAC6-6-56 3/8 EA COUPLER
Snap-tite SVEAC6-6-56E 3/8 EA COUPLER
Snap-tite SVEAC6-6-56M 3/8 EA COUPLER
Snap-tite SVEAC6-6-56V 3/8 EA COUPLER
Snap-tite SVEAC6-6F 3/8 EA CPLR
Snap-tite SVEAC6-6FAS 3/8 EA VLV CPLR
ASSY
Snap-tite SVEAC6-6FE 3/8 EA CPLR
Snap-tite SVEAC6-6FV 3/8 EA CPLR
Snap-tite SVEAC6-6FVSL 3/8 EA COUPLER SST
FEMALE NPT VITON SLE
Snap-tite SVEAC6-6M 3/8 EA CPLR
Snap-tite SVEAC6-6MV 3/8 EA COUPLER
Snap-tite SVEAC8-8-49 1/2 EA CPLR
Snap-tite SVEAC8-8-56 1/2 EA CPLR
Snap-tite SVEAC8-8F 1/2 EA CPLR
Snap-tite SVEAC8-8FE 1/2 EA CPLR
Snap-tite SVEAC8-8FV 1/2 EA CPLR
Snap-tite SVEAC8-8H 1/2 EA CPLR
Snap-tite SVEAC8-8M 1/2 EA CPLR
Snap-tite SVEAC8-8MESL 1/2 EA COUPLER
Snap-tite SVEAN4-2F 1/4 EA NPL
Snap-tite SVEAN4-2FV 1/4 EA NPL
Snap-tite SVEAN4-4-56 1/4 EA NPL
Snap-tite SVEAN4-4-56JF 1/4 EA NPL
Snap-tite SVEAN4-4F 1/4 EA NPL
Snap-tite SVEAN4-4FE 1/4 EA NPL
Snap-tite SVEAN4-4FV 1/4 EA NPL
Snap-tite SVEAN4-4H 1/4 EA NIPPLE SST
VALVED HOSE BARB END
Snap-tite SVEAN4-4M 1/4 EA NPL
Snap-tite SVEAN4-4ME 1/4 EA NPL SST EPR
Snap-tite SVEAN4-4MN 1/4 NPL
Snap-tite SVEAN4-4MV 1/4 EA NPL
Snap-tite SVEAN6-6-49 3/8 EA NPL
Snap-tite SVEAN6-6-56 3/8 EA NPL
Snap-tite SVEAN6-6-56M 3/8 EA NPL
Snap-tite SVEAN6-6-56V 3/8 EA NIPPLE
Snap-tite SVEAN6-6-57 3/8 EA NPL
Snap-tite SVEAN6-6F 3/8 EA NPL
Snap-tite SVEAN6-6FAS 3/8 EA VLV NPL ASSY
Snap-tite SVEAN6-6FV 3/8 EA VLV NPL ASSY
Snap-tite SVEAN6-6M 3/8 EA NPL
Snap-tite SVEAN6-6MV 3/8 EA NIPPLE
Snap-tite SPEAC8-8F SPEAC8-8F
Snap-tite SPEAC8-8FV SPEAC8-8FV
Snap-tite SPEAN8-8F SPEAN8-8F
Snap-tite SVEAC8-8MV 3/8 EA COUPLER
Snap-tite SVEAN8-8-49 1/2 NPL
Snap-tite SVEAN8-8-56 1/2 EA NPL
Snap-tite SVEAN8-8F 1/2 EA NPL
Snap-tite SVEAN8-8FE 1/2 EA NPL
Snap-tite SVEAN8-8FV 1/2 EA NPL
Snap-tite SVEAN8-8H 1/2 EA NPL
Snap-tite SVEAN8-8M 1/2 EA NPL
Snap-tite SVEAN8-8ME 1/2 EA NIPPLE
Snap-tite SVEAN8-8MV 1/2 EA NPL
Snap-tite SPEAC12-12F SPEAC12-12F
Snap-tite SPEAC12-12FJF 3/4 EA PLN CPLR
ASSY
Snap-tite SPEAC12-12FSL 3/4 EA COUPLER
Snap-tite SPEAC12-12FV SPEAC12-12FV
Snap-tite SPEAN12-12F SPEAN12-12F
Snap-tite SVEAC12-12-49 3/4 EA CPLR
Snap-tite SVEAC12-12F 3/4 EA CPLR
Snap-tite SVEAC12-12FAS 3/4 EA CPLR
Snap-tite SVEAC12-12FE 3/4 EA CPLR
Snap-tite SVEAC12-12FSL 3/4 VLVD CPLR
W/SL
Snap-tite SVEAC12-12FV 3/4 EA CPLR
Snap-tite SVEAC12-12M 3/4 EA CPLR
Snap-tite SVEAN12-12-49 3/4 EA NPL
Snap-tite SVEAN12-12F 3/4 EA NPL
Snap-tite SVEAN12-12FE 3/4 EA NIPPLE
Snap-tite SVEAN12-12FV 3/4 EA NPL
Snap-tite SVEAN12-12M 3/4 EA NPL
Snap-tite SVEAN12-12MAS 3/4 NPL
Snap-tite SVEAN12-12ME 3/4 EA NPL
Snap-tite SPEC16-16F SPEC16-16F
Snap-tite SPEN16-16F SPEN16-16F
Snap-tite SVEC16-16F 1 E COUPLER
Snap-tite SVEC16-16FE 1 E COUPLER
Snap-tite SVEC16-16FJF 1 E COUPLER
Snap-tite SVEC16-16FSL 1 E COUPLER
Snap-tite SVEC16-16FV 1 E COUPLER
Snap-tite SVEC16-16M 1 E COUPLER
Snap-tite SVEC16-16MESL 1 E COUPLER
Snap-tite SVEC16-16MSL 1 E COUPLER SST
MALE NPT SLEEVELOCK
Snap-tite SVEC16-16MV 1 E COUPLER
Snap-tite SVEN16-16F 1 E NPL
Snap-tite SVEN16-16FE 1 E NIPPLE ASSEMBLY
Snap-tite SVEN16-16FJF 1 E VLV NPL ASSY
Snap-tite SVEN16-16FV 1 E NPL
Snap-tite SVEN16-16M 1 E NPL
Snap-tite SVEN16-16ME 1 E NIPPLE
Snap-tite SPEC20-20F SPEC20-20F
Snap-tite SPEC20-20FESL 1-1/4 E COUPLER
WITH SLEEVELOCK
Snap-tite SPEC20-20FV 1 1/4 E CPLR
Snap-tite SPEC20-20FVSL 1 1/4 E CPLR
Snap-tite SPEC20-20FVSL 1 1/4 E COUPLER
Snap-tite SPEN20-20F 1 1/4 PLN E NPL
Snap-tite SVEC20-20F 1 1/4 E COUPLER
Snap-tite SVEC20-20FE 1 1/4 E COUPLER
Snap-tite SVEC20-20FVSL 1 1/4 E COUPLER
Snap-tite SVEC20-20M 1 1/4 E COUPLER
CHECK INVENTORY BEFORE
Snap-tite SVEC20-20MSL 1 1/4 E COUPLER
VALVED SST MALE NPT SLE
Snap-tite SVEN20-20F 1 1/4 E NPL
Snap-tite SVEN20-20FE 1 1/4 NPL
Snap-tite SVEN20-20FV 1 1/4 E NPL
Snap-tite SVEN20-20M CK INV BEFORE
QUOTING
Snap-tite SPEC24-24F SPEC24-24F
Snap-tite SPEC24-24FE 1 1/2 E COUPLER
Snap-tite SPEC24-24FSL 1 1/2 E PLN CPLR
ASSY S/L
Snap-tite SPEC24-24FV SPEC24-24FV
Snap-tite SPEN24-24F SPEN24-24F
Snap-tite SVEC24-24F 1 1/2 E COUPLER
Snap-tite SVEC24-24FE 1 1/2 E COUPLER
Snap-tite SVEC24-24FSL 1 1/2 E COUPLER
Snap-tite SVEC24-24FV 1 1/2 E COUPLER
Snap-tite SVEC24-24M 1 1/2 E COUPLER
CHECK INVENTORY BEFORE
Snap-tite SVEC24-24MSL 1 1/2 E COUPLER
SLEEVE LOCK
Snap-tite SVEN24-24F 1 1/2 E NPL
Snap-tite SVEN24-24FE 1 1/2 E NPL
Snap-tite SVEN24-24FV SVEN24-24FV
Snap-tite SVEN24-24M SVEN24-24M
Snap-tite SVEN24-24ME 1 1/2 E NPL
Snap-tite SPEC32-32F SPEC32-32F
Snap-tite SPEC32-32FSL 2 E COUPLER PLAIN
Snap-tite SPEN32-32F SPEN32-32F
Snap-tite SVEC32-32F 2 E COUPLER
Snap-tite SVEC32-32FV 2 E COUPLER
Snap-tite SVEC32-32M 2 E COUPLER CHECK
INVENTORY BEFORE QU
Snap-tite SVEC32-32MSL 2 E COUPLER
Snap-tite SVEC32-32RPESL 2 E COUPLER
Snap-tite SVEN32-32F SVEN32-32F
Snap-tite SVEN32-32FV 2 E NIPPLE ASSEMBLY
Snap-tite SVEN32-32M CK INV BEFORE
QUOTING
Snap-tite SVEN32-32RPE 2 E NPL"
Snap-tite PEAC4-4F PEAC4-4F
Snap-tite PEAC4-4FE PEAC4-4FE
Snap-tite PEAC4-4FJF PEAC4-4FJF
Snap-tite PEAC4-4FSL 1/4 EA PLN CPL ASSY
S/L
Snap-tite PEAC4-4FV PEAC4-4FV
Snap-tite PEAC4-4FVSL PEAC4-4FVSL
Snap-tite PEAN4-4F PEAN4-4F
Snap-tite PEAN4-4M PEAN4-4M
Snap-tite VEAC4-2F VEAC4-2F
Snap-tite VEAC4-2FV VEAC4-2FV
Snap-tite VEAC4-2M VEAC4-2M
Snap-tite VEAC4-4EF 1/4 EA VLV CPLR ASSY
Snap-tite VEAC4-4EM VEAC4-4EM
Snap-tite VEAC4-4F VEAC4-4F
Snap-tite VEAC4-4FAS 1/4 VLV'D CPLR
W/AFLAS SL
Snap-tite VEAC4-4FE 1/4 EA COUPLER
Snap-tite VEAC4-4FSL VEAC4-4FSL
Snap-tite VEAC4-4FV 1/4 EA CPLR
Snap-tite VEAC4-4M VEAC4-4M
Snap-tite VEAC4-4MV VEAC4-4MV
Snap-tite VEAC4-4RP 1/4 EA CPLR RP
Snap-tite VEAC4-6M 1/4 EA VLV CPLR
Snap-tite VEAN4-2F VEAN4-2F
Snap-tite VEAN4-2M VEAN4-2M
Snap-tite VEAN4-2MV 1/4 EA NPL
Snap-tite VEAN4-4EF 1/4 EA VLV NPL ASSY
Snap-tite VEAN4-4EM VEAN4-4EM
Snap-tite VEAN4-4F 1/4 EA NIPPLE
Snap-tite VEAN4-4FAS 1/4 VLV'D NPL
W/AFLAS SL"
Snap-tite VEAN4-4FE 1/4 EA NIPPLE
Snap-tite VEAN4-4FV 1/4 EA NPL
Snap-tite VEAN4-4H VEAN4-4H
Snap-tite VEAN4-4M VEAN4-4M
Snap-tite VEAN4-4MV VEAN4-4MV
Snap-tite VEAN4-4RP 1/4 EA NPL RP
Snap-tite VEAN4-6F CK INV BEFORE QUOTING
Snap-tite VEAN4-6FV 1/4 EA NIPPLE W/VITON
SEAL
Snap-tite VEAN4-6MV 1/4 EA NPL
Snap-tite PEAC6-6F PEAC6-6F
Snap-tite PEAC6-6FAS PEAC6-6FAS
Snap-tite PEAC6-6FE EA SERIES COUPLERS
Snap-tite PEAC6-6FV 3/8 CPLR
Snap-tite PEAN6-6F PEAN6-6F
Snap-tite PEAN6-6M 3/8 EA NPL
Snap-tite VEAC6-4M 3/8 EA COUPLER"
Snap-tite VEAC6-6F VEAC6-6F
Snap-tite VEAC6-6FAS 3/8 EA VALVED
COUPLER AFLAS SEALS
Snap-tite VEAC6-6FV VEAC6-6FV
Snap-tite VEAC6-6M 3/8 EA CPLR ASSY
Snap-tite VEAC6-6MV 3/8 EA COUPLER
Snap-tite VEAC6-6RPE 3/8 EA CPLR
Snap-tite VEAN6-6F VEAN6-6F
Snap-tite VEAN6-6FAS 3/8 EA VALVED NIPPLE
AFLAS SEALS
Snap-tite VEAN6-6FV VEAN6-6FV
Snap-tite VEAN6-6M 3/8 EA NPL
Snap-tite VEAN6-6MV 3/8 EA NIPPLE
ASSEMBLY
Snap-tite PEAC8-8F 1/2 EA CPLR
Snap-tite PEAC8-8FE PEAC8-8FE
Snap-tite PEAC8-8FSL 1/2 EA PLN CPL ASSY
S/L
Snap-tite PEAC8-8FV PEAC8-8FV
Snap-tite PEAC8-8FVSL 1/2 EA CPLR PLAIN
Snap-tite PEAN8-8F PEAN8-8F
Snap-tite VEAC8-8EM 1/2 EA COUPLER
Snap-tite VEAC8-8F VEAC8-8F
Snap-tite VEAC8-8FAS 1/2 EA VLV CPLR ASSY
Snap-tite VEAC8-8FSL 1/2 EA CPLR
Snap-tite VEAC8-8FV VEAC8-8FV
Snap-tite VEAC8-8H 1/2 EA CPLR
Snap-tite VEAC8-8M 1/2 EA CPLR
Snap-tite VEAC8-8MV VEAC8-8MV
Snap-tite VEAC8-8RPE VEAC8-8RPE
Snap-tite VEAN8-8EF VEAN8-8EF
Snap-tite VEAN8-8EM 1/2 EA NIPPLE
Snap-tite VEAN8-8F VEAN8-8F
Snap-tite VEAN8-8FAS 1/2 EA VLV NPL ASSY
Snap-tite VEAN8-8FV VEAN8-8FV
Snap-tite VEAN8-8M VEAN8-8M
Snap-tite VEAN8-8ME VEAN8-8ME
Snap-tite VEAN8-8MV 1/2 EA NPL
Snap-tite VEAN8-8RPE 1/2 EA NPL
Snap-tite PEAC12-12F PEAC12-12F
Snap-tite PEAC12-12FE PEAC12-12FE
Snap-tite PEAC12-12FM PEAC12-12FM
Snap-tite PEAC12-12FSL PEAC12-12FSL
Snap-tite PEAC12-12FV PEAC12-12FV
Snap-tite PEAN12-12F PEAN12-12F
Snap-tite VEAC12-12EF 3/4 EA VLV CPLR
ASSY
Snap-tite VEAC12-12F VEAC12-12F
Snap-tite VEAC12-12FSL 3/4 EA COUPLER
ASSMBLY
Snap-tite VEAC12-12FV 3/4 EA CPLR ASSY
Snap-tite VEAC12-12M VEAC12-12M
Snap-tite VEAC12-12MV 3/4 EA CPLR
Snap-tite VEAC12-12RP 3/4 EA CPLR RP
Snap-tite VEAN12-12EF 3/4 EA NPL
Snap-tite VEAN12-12F VEAN12-12F
Snap-tite VEAN12-12FV 3/4 EA NPL
Snap-tite VEAN12-12M VEAN12-12M
Snap-tite VEAN12-12MV VEAN12-12MV
Snap-tite VEAN12-12RPE 3/4 EA NPL
Snap-tite PEC16-16F PEC16-16F
Snap-tite PEC16-16FE 1.0 E PL CPL ASSY
Snap-tite PEC16-16FSL 1 E CPLR PLAIN
Snap-tite PEC16-16FV PEC16-16FV
Snap-tite PEC16-16FVSL 1 E CPLR PLAIN
Snap-tite PEN16-16F 1 PLN NPL
Snap-tite VEC16-16F VEC16-16F
Snap-tite VEC16-16FE 1 E COUPLER ASSEMBLY
Snap-tite VEC16-16FSL VEC16-16FSL
Snap-tite VEC16-16FV VEC16-16FV
Snap-tite VEC16-16M VEC16-16M
Snap-tite VEN16-16F VEN16-16F
Snap-tite VEN16-16FE 1 E NIPPLE ASSEMBLY
Snap-tite VEN16-16FV VEN16-16FV
Snap-tite VEN16-16M VEN16-16M
Snap-tite VEN16-16MV VEN16-16MV
Snap-tite PEC20-20F PEC20-20F
Snap-tite PEC20-20FV 1-1/4 PLAIN E SERIES
CPLR W/VITON"
Snap-tite PEN20-20F PEN20-20F
Snap-tite VEC20-20EB 1 1/4 E CPLR
Snap-tite VEC20-20F VEC20-20F
Snap-tite VEC20-20M 1 1/4 E Vlv Cplr
Snap-tite VEN20-20F VEN20-20F
Snap-tite VEN20-20M 1 1/4 E Vlv Nipple
Snap-tite PEC24-24F PEC24-24F
Snap-tite PEC24-24FESL PEC24-24FESL
Snap-tite PEN24-24F PEN24-24F
Snap-tite VEC24-24F VEC24-24F
Snap-tite VEC24-24M 1 1/2 E Vlv Cplr
Snap-tite VEN24-24F VEN24-24F
Snap-tite VEN24-24M 1 1/2 E Vlv Nipple
Snap-tite PEC32-32F PEC32-32F
Snap-tite PEC32-32FE 2 E COUPLER EPR
SEALS"
Snap-tite PEC32-32FJF PEC32-32FJF
Snap-tite PEC32-32FV 2 E COUPLER
Snap-tite PEN32-32F PEN32-32F
Snap-tite VEC32-32F VEC32-32F
Snap-tite VEC32-32FV VEC32-32FV
Snap-tite VEC32-32M VEC32-32M
Snap-tite VEN32-32F VEN32-32F
Snap-tite VEN32-32FV 2 VLVD E NIPPLE ASSY
V
Snap-tite VEN32-32M 2 E NPL ASSY
Snap-tite VEC48-48F VEC48-48F
Snap-tite VEN48-48F VEN48-48F
Snap-tite BPGFN4-4F BPGFN4-4F
Snap-tite BVGFC4-4F BVGFC4-4F
Snap-tite BPGFN6-6F BPGFN6-6F
Snap-tite BVGFC6-6F BVGFC6-6F
Snap-tite BPGFN8-8F 1/2 GAS NPL
Snap-tite BVGFC8-8F 1/2 GAS COUPLER
Snap-tite BPGFN12-12F 3/4 BRASS NPL
Snap-tite BVGFC12-12F 3/4 BRASS CPLR
Snap-tite BPGFN16-16F 1 BRASS NPL
Snap-tite BVGFC16-16F 1 BRASS CPLR
Snap-tite BPGFN20-20F 1 1/4 NPL
Snap-tite BVGFC20-20F 1 1/4 BRASS GAS
CPLR
Snap-tite ADCH-4 1/4 H DUST CAP ASSY
Snap-tite ADCH-4BC3.5 1/4 H DUST CAP ASSY
Snap-tite ADCH-4C10 1/4 H DUST CAP ASSY
Snap-tite ADCH-4C12 ADCH-4C12
Snap-tite ADCH-4C6 CAP W/ CABLE
Snap-tite ADCH-4C7 1/4 H DUST CAP
ASSEMBLY
Snap-tite ADCH-4E 1/4 H DUST CAP ASSY
Snap-tite ADCH-4JF 1/4 H DUST CAP ASSY
Snap-tite ADCH-4V ALUM DUST CAP W/VITON
Snap-tite AMPH-4 1/4 PLUG
Snap-tite AMPH-4BC4 AMPH-4BC4
Snap-tite AMPH-4BC6 AMPH-4BC6
Snap-tite AMPH-4C10 AMPH-4C10
Snap-tite AMPH-4C12 1/4 H DUST PLUG
Snap-tite AMPH-4E AMPH-4E
Snap-tite AMPH-4JF 1/4 H PLUG ALUMINUM
Snap-tite AMPH-4V AMPH-4V
Snap-tite ADCH-6 3/8 H DUST CAP
Snap-tite ADCH-6C14 3/8 H DUST CAP
Snap-tite ADCH-6E 3/8 H DUST CAP
Snap-tite AMPH-6 3/8 PLUG
Snap-tite AMPH-6C10 AMPH-6C10
Snap-tite AMPH-6C14 AMPH-6C14
Snap-tite AMPH-6E 3/8 H DUST PLUG
Snap-tite AMPH-6JF PLUG
Snap-tite AMPH-6SC10 PLUG W/SASH CHAIN
Snap-tite ADCH-8 1/2 H DUST CAP ASSEMBLY
Snap-tite ADCH-8BC12 1/2 H DUST CAP
ASSEMBLY
Snap-tite ADCH-8BC14 1/2 H DUST CAP
ASSEMBLY W/BEAD CHAIN
Snap-tite ADCH-8BC4 1/2 H DUST CAP
ASSEMBLY W/BEAD CHAIN
Snap-tite ADCH-8BC6 1/2 H DUST CAP
ASSEMBLY WITH BEAD CHAI
Snap-tite ADCH-8BC8 1/2 H DUST CAP
ASSEMBLY W/BEAD CHAIN
Snap-tite ADCH-8BC9 1/2 H DUST CAP
ASSEMBLY WITH BEAD CHAI
Snap-tite ADCH-8C10 1/2 H DUST CAP
ASSEMBLY W/CABLE
Snap-tite ADCH-8C14 1/2 H DUST CAP
ASSEMBLY WITH CABLE
Snap-tite ADCH-8C8 1/2 H DUST CAP
ASSEMBLY WITH CABLE
Snap-tite ADCH-8E 1/2 H DUST CAP ASSEMBLY
Snap-tite ADCH-8JF 1/2 H DUST CAP
ASSEMBLY
Snap-tite ADCH-8SC10 1/2 H DUST CAP
ASSEMBLY W/SASH CHAIN
Snap-tite ADCH-8SC12 1/2 H DUST CAP
ASSEMBLY W/SASH CHAIN
Snap-tite ADCH-8SC14 1/2 H DUST CAP
ASSEMBLY W/SASH CHAIN
Snap-tite ADCH-8V 1/2 H DUST CAP ASSEMBLY
W/VITON
Snap-tite AMPH-8 DUST PLUG
Snap-tite AMPH-8BC12 1/2 H DUST PLUG
Snap-tite AMPH-8BC14 PLUG W/BEAD CHAIN
Snap-tite AMPH-8BC20 DUST PLUG
Snap-tite AMPH-8BC4 PLUG W/BEAD CHAIN
Snap-tite AMPH-8BC6 DUST PLUG
Snap-tite AMPH-8BC8 DUST PLUG W/8 BEAD
CHAIN
Snap-tite AMPH-8BC9 AMPH-8BC9
Snap-tite AMPH-8C10 1/2 H DUST PLUG
ASSEMBLY
Snap-tite AMPH-8C8 DUST PLUG
Snap-tite AMPH-8E ALUM DUST PLUG W/EPR
Snap-tite AMPH-8JF DUST PLUG
Snap-tite AMPH-8SC10 1/2 H DUST PLUG ASSY
Snap-tite AMPH-8V DUST PLUG
Snap-tite ADCH-12 3/4 H DUST CAP ASSY
Snap-tite ADCH-12BC12 3/4 H DUST CAP
ASSEMBLY
Snap-tite ADCH-12BC14 CAP W/BEAD CHAIN
Snap-tite ADCH-12BC8 3/4 H DUST CAP
Snap-tite ADCH-12C10 3/4 H DUST CAP ASSY
Snap-tite ADCH-12C12 3/4 H DUST CAP ASSY
Snap-tite ADCH-12C6 3/4 H DUST CAP ASSY
Snap-tite ADCH-12JF DUST CAP
Snap-tite ADCH-12SC10 3/4 H DUST CAP ASSY
Snap-tite ADCH-12SC12 DUST CAP
Snap-tite ADCH-12SC14 3/4 H DUST CAP ASSY
Snap-tite AMPH-12 3/4 H DUST PLUG ASSY
Snap-tite AMPH-12BC12 3/4 H DUST PLUG
ASSY
Snap-tite AMPH-12BC14 3/4 DUST PLUG
W/BEAD CH
Snap-tite AMPH-12BC15 DUST PLUG
Snap-tite AMPH-12BC18 DUST PLUG
Snap-tite AMPH-12C DUST PLUG
Snap-tite AMPH-12C10 3/4 H DUST PLUG
ASSEMBLY
Snap-tite AMPH-12C14 3/4 DUST PLUG
W/CABLE
Snap-tite AMPH-12C15 3/4 H DUST PLUG ASSY
Snap-tite AMPH-12C4 AMPH-12C4
Snap-tite AMPH-12C6 3/4 DUST PLUG
Snap-tite AMPH-12C8 3/4 DUST PLUG
Snap-tite AMPH-12JF DUST PLUG
Snap-tite AMPH-12SC10 3/4 H DUST PLUG
ASSEMBLY
Snap-tite AMPH-12SC12 DUST PLUG
Snap-tite AMPH-12SC15 3/4 H DUST PLUG
ASSY
Snap-tite AMPH-12SC16 AMPH-12SC16
Snap-tite AMPH-12SC8 3/4 H DUST PLUG ASSY
Snap-tite AMPH-12V 3/4 PLUG
Snap-tite ADCH-16 1 H DUST CAP ASSY
Snap-tite ADCH-16BC10 DUST CAP
Snap-tite ADCH-16BC14 1 H DUST CAP ASSY
Snap-tite ADCH-16C10 1 H DUST CAP ASSY
Snap-tite ADCH-16C12 DUST CAP
Snap-tite AMPH-16 1 H DUST PLUG ASSY
Snap-tite AMPH-16BC10 1 H DUST PLUG ASSY
Snap-tite AMPH-16BC14 1 H DUST PLUG ASSY
Snap-tite AMPH-16BC16 DUST PLUG 16 BEAD
CHAIN
Snap-tite AMPH-16BC18 DUST PLUG
Snap-tite AMPH-16BC6 AMPH-16BC6
Snap-tite AMPH-16BC8 1 H PLUG
Snap-tite AMPH-16C10 DUST PLUG
Snap-tite AMPH-16C12 1 ALUM DUST PLUG
W/12
Snap-tite AMPH-16C14 DUST PLUG
Snap-tite AMPH-16C7 PLUG
Snap-tite AMPH-16SC14 DUST PLUG
Snap-tite AMPH-16SC16 AMPH-16SC16
Snap-tite AMPH-16SC18 DUST PLUG
Snap-tite AMPH-16SC8 DUST PLUG
Snap-tite ADCH-20 1 1/4 H DUST CAP ASSY
Snap-tite ADCH-20BC10 1 1/4 H DUST CAP
WITH 10 INCH BEAD CHAIN
Snap-tite ADCH-20BC14 1 1/4 H DUST CAP
ASSY
Snap-tite ADCH-20C10 1 1/4 H DUST CAP
ASSY
Snap-tite ADCH-20C12 1 1/4 H DUST CAP
ASSY
Snap-tite AMPH-20 DUST PLUG
Snap-tite AMPH-20BC14 1 1/4 H ALUMINUM
DUST PLUG WITH 14 INCH
Snap-tite AMPH-20C10 1 1/4 H ALUMINUM
PLUG
Snap-tite AMPH-20C12 AMPH-20C12
Snap-tite AMPH-20JF AMPH-20JF
Snap-tite ADCH-24 1 1/2 H DUST CAP ASSY
Snap-tite ADCH-24BC18 1 1/2 H CAP
Snap-tite ADCH-24C10 1 1/2 H DUST CAP
WITH 10 INCHES SST CAB
Snap-tite ADCH-24C6 1 1/2 DUST W/6 CABLE
Snap-tite ADCH-24JF 1 1/2 H DUST CAP ASSY
Snap-tite AMPH-24 1 1/2 H DUST PLUG ASSY
Snap-tite AMPH-24BC12 1 1/2 H DUST PLUG
Snap-tite AMPH-24BC14 1 1/2 H DUST PLUG
ASSY
Snap-tite AMPH-24BC18 1 1/2 H DUST PLG
Snap-tite AMPH-24C INACTIVE INCORRECT P/N
PEK 3-11-02 AMPH
Snap-tite AMPH-24C10 1 1/2 H DUST PLUG
ASSY
Snap-tite AMPH-24C12 1 1/2 H DUST PLUG
WITH 12 INCHES SST CA
Snap-tite AMPH-24C6 1 1/2 DUST PLUG W/6
CBL
Snap-tite ADCH-32 2 DUST CAP
Snap-tite ADCH-32BC12 2 H DUST CAP
ASSEMBLY
Snap-tite ADCH-32BC14 2 H DUST CAP ASSY
Snap-tite ADCH-32C10 2 H DUST CAP ASSY
Snap-tite ADCH-32C12 2 H DUST CAP
Snap-tite AMPH-32 2 H PLUG
Snap-tite AMPH-32BC10 2 H DUST PLUG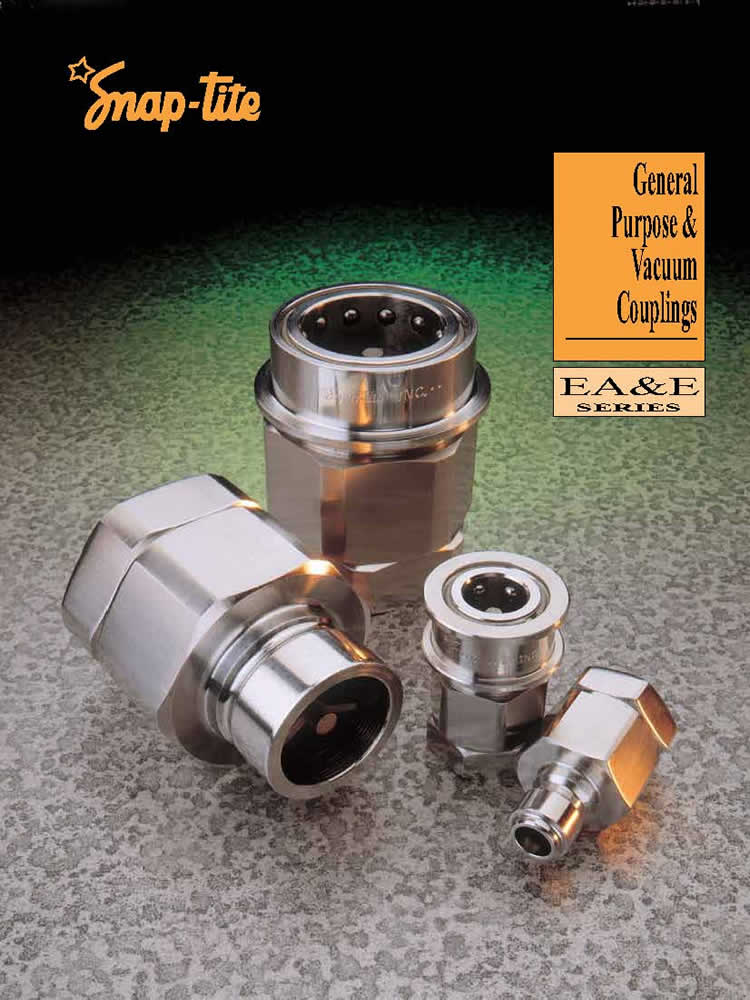 ASSEMBLY
Snap-tite AMPH-32BC12 2 H DUST PLUG
ASSEMBLY
Snap-tite AMPH-32BC14 AMPH-32BC14
Snap-tite AMPH-32BC7 AMPH-32BC7
Snap-tite AMPH-32C10 DUST PLUG
Snap-tite AMPH-32C12 DUST PLUG
Snap-tite AMPH-40 2 1/2 H PLUG
Snap-tite ADCH-24C12 1 1/2 H DUST CAP
WITH 12 INCHES SST CAB